In the past four months, we've been in the process of making some big changes to our Medical Business Development (MBD) office here at HUI. After moving upstairs and making renovations, we've helped HUI make some LEAN improvements and created a space where we can better serve our customers. We're excited to finally get to share with you all the changes we've made over the past few months.
Why We Moved Upstairs:
HUI's upstairs room has served many different purposes throughout the years. It started out as office space, then it became a classroom for a local technical college, and finally it mainly served as a large conference room. Teams also used the side rooms to store files and equipment. At that point, it was a huge space that we weren't utilizing to its fullest potential. That was a big opportunity for HUI, because our LEAN culture encourages everyone to look for opportunities to create more efficiency in our work.
The choice to move the Medical Business Development Team upstairs was driven by one other big move for HUI. If you follow us on social media, or if you read our manufacturing blog, you may have seen a video explaining the new space we opened up on the shop floor to add over 10,000 hours of capacity. To do that we first needed to move HUI's Operations Team out of their office, so they could tear down the walls and open up that space for the shop floor.
The Operations Team took over our old MBD office, so they could be closer to the floor, and our team took on the task of turning the upstairs space into our new office and prototyping room. In the two pictures below, you can see where we started.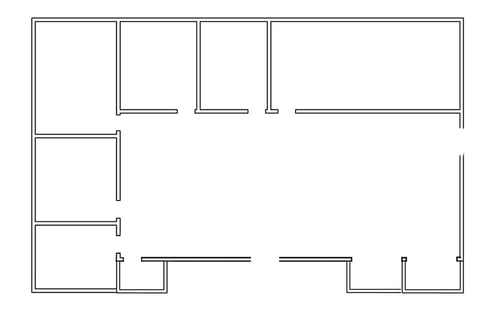 LTC Conference Room Layout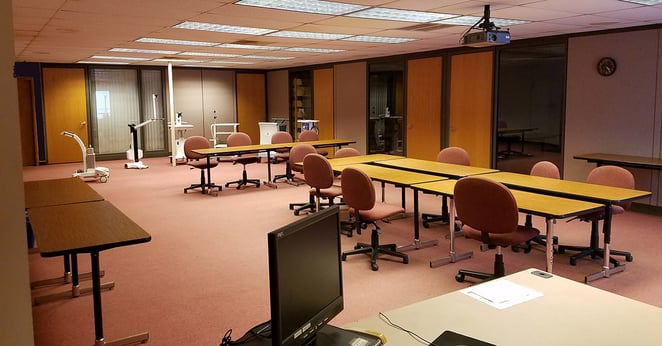 LTC Conference Room
The New MBD Office Layout
One of the best things about working with the MBD engineers is that they are very creative and very resourceful. They know how to keep a project within a price range while also focusing on making cost-effective improvements. Once you look through the list of changes, you'll see that a majority of the office remodel involved utilizing what we already had, but this time in more innovative ways.
The layout below shows exactly what we wanted to do with the remodel: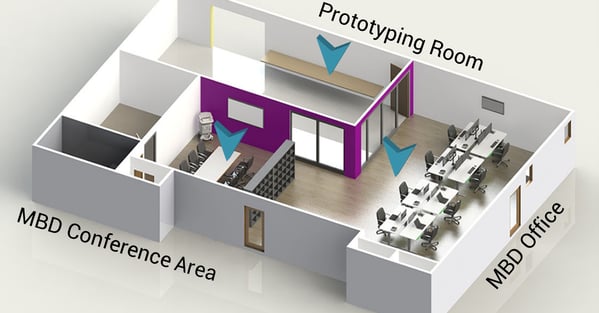 MBD Room Layout
…And besides the carpet, the result wasn't far off from what we were aiming for:

New MBD Room
Three New MBD Rooms
We divided the new space into three areas: the Prototyping Room, the MBD Office, and the MBD Conference Area. (If you're curious about the larger empty room on the layout, that room still holds storage and files for several other teams. To get an idea of how our team transformed this office, you can view the before and after photos and review the list of changes below.
Medical Cart Prototyping and Testing Room:

In Process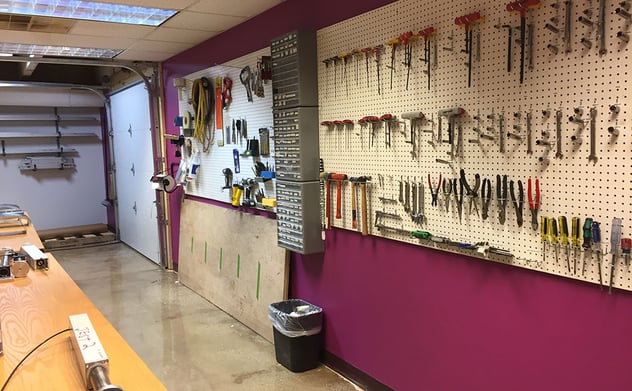 After
Changes:
Had the walls painted
Covered a window to the shop floor with our tool board
Pulled out the carpet
Used the extra doors we took down from the LTC room to create tables for the Prototyping Room
Knocked out some wall space, and a window, to add a garage door that opens up to the shop floor (By using forklifts, the garage door is a more efficient and safer way to bring materials and medical carts upstairs)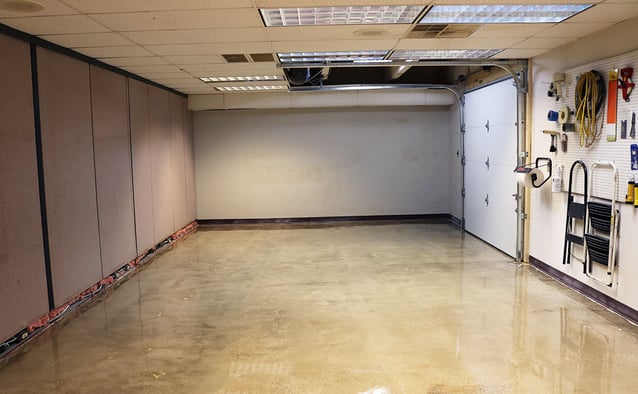 New Garage Door and Floor
Added epoxy coating to the floor
Rearranged wall panels to create glass walls, so visitors and engineers can see the Prototyping Room from the office
Medical Cart Cycle Testing Fixture
Moved the medical cart cycle testing fixture upstairs, which freed up additional space on the shop floor
Made some LEAN improvements by moving everything from separate testing areas into one large room
MBD Conference Area: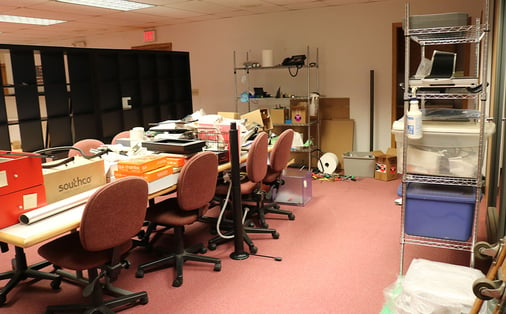 In Process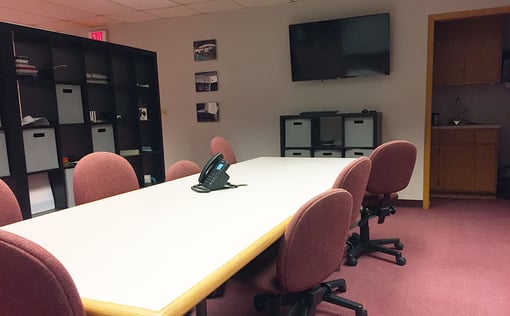 After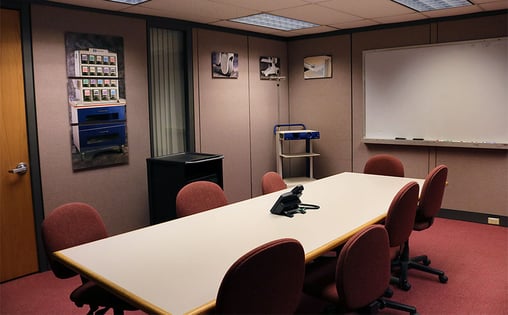 After
Changes:
Rearranged panels to create a solid wall between the Prototyping Room and the MBD Conference Area
Set up a TV to use as a computer monitor for the room
Moved shelving unit from our storage room to create another wall
Consolidated the shelf storage and got rid of unused items
Purchased new cloth bins along with another small shelving unit for storage under the TV
Put up medical cart photos from our old office
Placed some display carts in the room
Took down the whiteboard from the LTC Conference Room and put it up on the back wall
Moved a table and chairs from a side room into the MBD Conference Area
MBD Conference Area:

In Process

After
Changes:
Purchased a standing desk, wireless keyboard, wireless mouse, and new monitor mount for each team member
Put up poles to organize and clean up the wires
Engineered drawers for the desks and built them at HUI
Created a new LEAN project board that's easier to read and understand from a distance
Brought up a TV to display our measures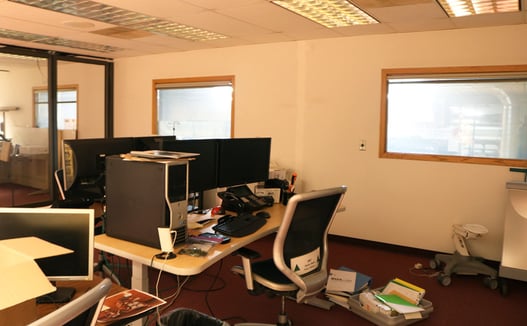 In Process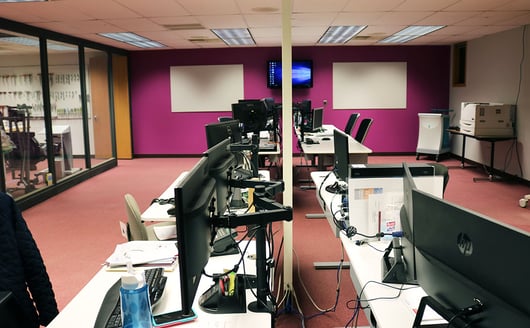 After
Made boards to cover up the windows looking out at the shop floor to help reduce noise
Had the walls cleaned and painted
Took out some wall panels from the LTC Conference Room to open up our office space
Brought in people to clean the carpet
Kept the same office chairs
Bought a new printer stand to organize paper storage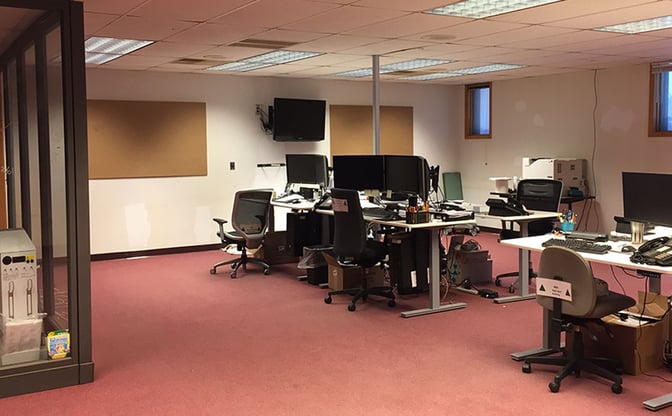 In Process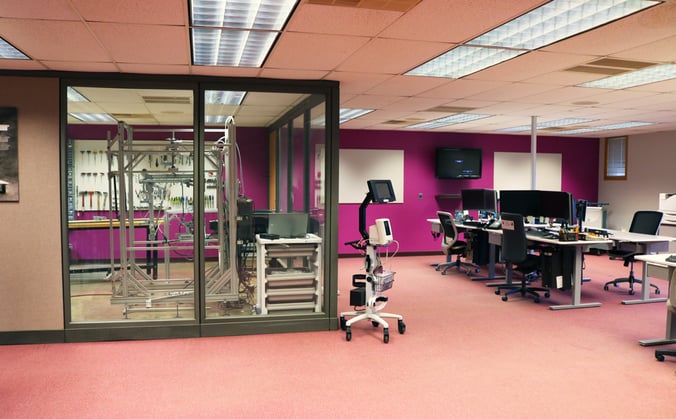 After
It's amazing how far this room has come since we started this remodel. The team did a great job of transforming the space into an office we're all proud to work in. The quick move freed up space to add more capacity on the shop floor and it allows our customers to get a more comprehensive experience each time they visit, so this was a big win all around.
If you're interested in visiting our office in person, and need help with a new custom medical cart project, please contact us today!
For more articles like this, please subscribe to the Cart Smart Blog to get an email update the next time we publish a new blog post.