When you start making decisions about your medical cart, the production process you're planning to use may not be your top concern. However, knowing how a product is made helps you know what details might affect your design, as well as what kind of changes you can make to your cart throughout production. For example, finding a cart manufacturer with a made to order policy gives you the opportunity to change your medical cart design throughout production, and it comes with a few other perks as well.
Improving Your Medical Cart Designs throughout Production
The best part of a made to order policy is that it allows medical cart customers to make design changes (or rev. changes) after a cart goes into production. In addition, customers don't have to throw out older versions of stocked carts because we avoid holding finished good inventory. This promotes continuous improvement for the design because clients don't have to worry about throwing away money on old cart designs that go to waste.
Engineers love this production policy because at times design changes are critical to the integrity and safety of their product, so when issues arise they don't have time to wait to fix their design. They are able to make changes on the fly, as many times as they want, as long as they get them in before that scheduled production run.
Also, buyers don't have to spend their time keeping track of POs for products with multiple rev. changes because they don't have to keep track of any leftover inventory.
Other Advantages of a Made to Order Policy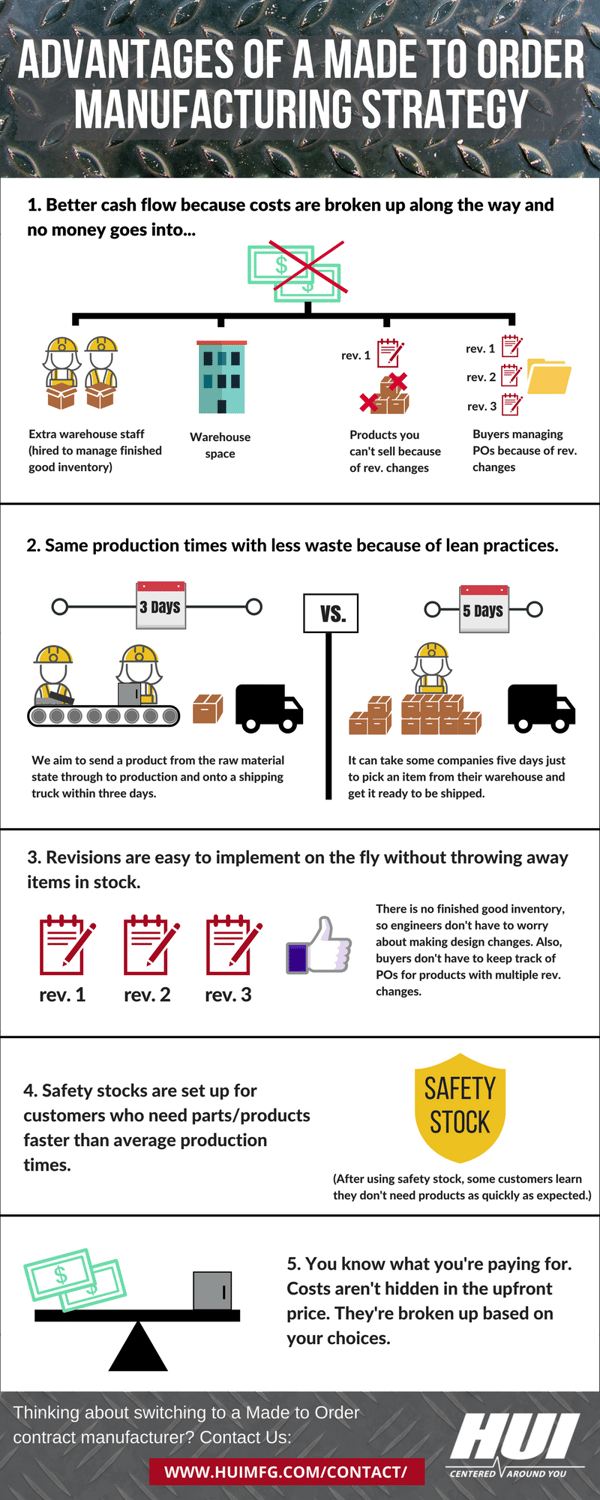 "Advantages of a Made to Order Manufacturing Strategy" Infographic from:
https://www.huimfg.com/made-to-order-manufacturing-2/
Better Cash Flow
Costs are broken up along the way, so you know exactly what you're paying for throughout production. We never hide costs in the upfront price, whereas some companies might bury the fees like warehouse space and warehouse maintenance. We present the price of each fee separate and let you make an informed decision based on your product's specific needs.
The cash flow is also great for small production runs, so you can decide your production quantities as orders come in. We don't require you to hold onto inventory, so it's a great policy if you need to divide costs over time.
Decrease Warehouse Waste
One of the greatest advantages of a made to order policy is eliminating the extra fees associated with warehouse space and staff. It's never fun to pay for something you don't need, so this policy bypasses the middle man. Using lean practices, we are able to send the product through production and straight to shipping without ever placing it in finished good inventory.
Some customers worry about the fact that we do not hold inventory, because they're worried about lead times. However, as long as they're able to place their orders ahead, the production time isn't any different from companies who do hold inventory. Sometimes it's even shorter.
It comes down to how that production time is used. For us, we have a goal to send a product from the raw material state through to production and onto a shipping truck within three days. It could take other companies five days just to pick an item from their warehouse and get it ready to ship.
Safety Stock
Safety stocks are set up for customers who need parts/products faster than average production times. It comes at a fee, because it's not an option that all of our customers use. For example, we create a safety stock if a customer needs parts from an outside supplier that has longer lead times than their own product's lead time. We will also start a safety stock if they need their product built quicker than our three day production time. Keep in mind that some customers learn they don't need products as quickly as expected, so they're able to take their items out of safety stock.
These are the main benefits our medical cart customers see when working with a cart manufacturer who uses a made to order policy. Engineers can make design changes to their medical carts throughout production. Clients see better cash flow and less waste. Buyers spend less time managing POs for products with multiple rev. changes. At HUI, we've worked to perfect our lean processes over the years, so we excel at the made to order strategy. If you'd like to learn more, or need help with a custom medical cart project, please contact us today!