Key personnel transitions poise HUI for success
HUI Manufacturing announces staffing transitions this week that will support the continued growth of the Kiel-based contract manufacturer. Mike Schwarz will be moving to the role of Director of Operations, while Tim Jandrey will be moving to a new role supporting the company's Medical Business Division as the Director of Quality & Regulatory Affairs.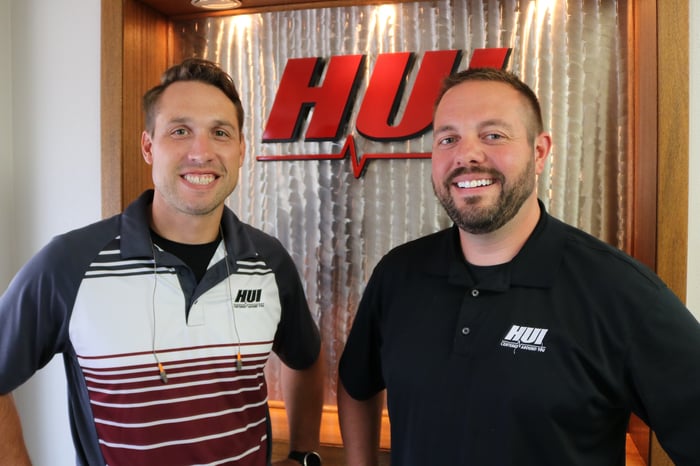 Pictured above from left: Mike Schwarz, HUI Manufacturing's new Director of Operations, and Tim Jandrey, Director of Regulatory Affairs.
Tim Jandrey has filled several roles at HUI over the years, including Director of Operations, Materials Manager, and Scheduler. The Director of Quality & Regulatory Affairs is a new job function at the company, necessitated by HUI's continued growth in the highly regulated custom medical device cart industry. Moving forward, his focus will be tracking internal ISO audits and FDA regulatory requirements as well as financial analysis for the medical business division. As HUI's medical cart business expands, this role will be key to enabling future growth in an increasingly complex regulatory environment. Jandrey is a graduate of Lakeland University with a bachelor's degree in business with a finance emphasis.
Mike Schwarz was previously the HUI Continuous Improvement Manager and brings a wealth of expertise in lean manufacturing and engineering management which will continue to be part of his purview as the Director of Operations. The role also includes implementing operational initiatives and capital expenditures to support future growth and efficiency. Schwarz looks forward to mentoring shop floor employees and supervisors and working closely with our human resources team to train and retain a skilled workforce. He has already worked closely with the shop floor on several continuous improvement initiatives and hopes to continue to make HUI a company centered around its customers and employees. Schwartz holds a bachelor's degree in mechanical engineering from UW-Platteville and a master's degree in organizational leadership from Lakeland University.
We congratulate Mike and Tim on their new roles and look forward to witnessing their continued success!