Engineering Innovative Solutions for Your Custom Medical Cart
Our medical cart design engineering team primarily uses SolidWorks© CAD for their development platform; although, we also work with software files such as Native SolidWorks, IGES, and STEP. The coolest gadgets and the latest technology don't come close to the ingenuity of a group of engineers with over 30 years of combined experience designing custom platforms for medical device OEMs.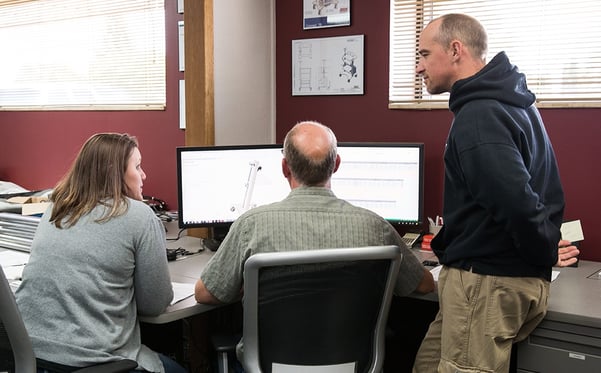 A large part of what sets our engineers above the rest is our approach to the engineering phase of the custom medical cart process. We collaborate directly with our customers by holding regular engineering meetings, so updates and changes are applied in real-time.
Building prototypes for a successful custom medical cart.
At HUI Manufacturing, we firmly believe in the power of custom medical cart prototyping. Not only does it ensure that the various mechanics of your cart work, but it also supplies ample opportunities to troubleshoot, make changes before production, and test for regulatory compliance.
Preliminary IEC 60601-1 testing is conducted in-house.
Only testing labs, like MECA, can grant official IEC 60601 certification. Fortunately, we're extremely familiar with the safety qualifications and design our carts to meet IEC 60601-1 standards. We take advantage of the prototyping stage by conducting IEC 60601-1 tests on your prototype in-house so that you can confidently submit your custom cart to an IEC 60601-1 certified testing lab.