"We couldn't find someone who can do what HUI Manufacturing does so well."
—Doron Dekel, co-founder and CEO of ClaroNav.
Nobody likes going to the dentist, much less the oral surgeon. And who would like going to a place where the odds of leaving half numb, drooling and trying not to accidentally eat or choke on the rolled up piece of gauze that has been unceremoniously shoved into your mouth are quite high? It may not be glamorous, but we begrudgingly admit to its necessity. Thankfully for us, many industries work towards advancements in oral surgery every day. One such company, formally known as ClaroNav Technologies, does just that.
The Situation
Founded in 2001 as Claron Technology, ClaroNav Inc. launched development of "sophisticated 3D visualization and surgical navigation solutions." In January 2015, Lexmark acquired the non-navigation divisions of Claron Technologies, leading to their new name: ClaroNav (ClaroNavigation).
A few years before this change, ClaroNav wanted to produce a dental surgery navigation medical cart for an optical tracking system with the intention to sell their device to navigation researchers who utilize robotics for surgery. ClaroNav had their project set for the dental market, specifically navigational ENT surgeries.
The Problem
After an attempt to configure a standard cart for their needs, ClaroNav made the executive decision to find a custom medical cart manufacturer. Eventually, ClaroNav found HUI Manufacturing and, after a few visits, HUI put a proposal together.
"We could tell that HUI was interested in a partnership," said Dekel.
The Obstacles
ClaroNav contracted Razvan Mitulescu to create the industrial design for HUI Manufacturing to produce.
Dekel visited HUI Manufacturing early on. "I was impressed with the skill of the operation," said Dekel, taking note of the other projects HUI's Medical Business Development (MBD) team attended to. This visit provided an opportunity for both parties to communicate and set a plan for the future. Subsequently, ClaroNav's project started moving at an agreeable pace, aided by regular visits and meeting with MBD's project manager and project engineer, Nicole Reese and Mark Collins.
The intricacies of its function and industrial design led to some technical obstacles encountered along the way. The medical cart needed to stay under 50 pounds and have a small footprint due to the compact size of most dentists' offices, IEC 60601-1 3rd Edition requirements, and for optimal shipping.
The device's design incorporated an extendable monitor arm that would usually need a large counterweight, so it doesn't tip, which obviously was not an option in this case due to weight and size restrictions.
Other Obstacles:
Difficult to manufacture a custom extrusion; the initial idea was to press a round tube, but there were safety concerns
Arm, when folded, did not align perfectly with column and had a tendency to "wander" when not in use
Not enough counterbalance to keep the arm from maintaining a fully or partially extended position
Screws and fasteners clashed with the cart's aesthetics
Difficult to match the thermoform parts to sheet metal parts because thermoforming allows for more tolerance. Due to initial lower volumes, thermoforming was most cost effective
First prototype was difficult to assemble and dismantle—had to take off plastic sides and base to get to the column fasteners
The Solution
HUI's medical business division engineers used SolidWorks simulations and multiple rounds of trial and error on a functional prototype build to keep the medical cart under 50 pounds and to extending the arm without adding more weight or risking a tipping hazard. They made the column out of aluminum to reduce the weight, and they moved any available weight to the base of the cart.
Other Solutions:
Outsourced for custom extrusion because it was not within our capabilities
Designed plastic clamp, which kept the arm in place
Customized a friction joint, which underwent a lot of "trial and error" exercises to establish the correct torque by using gas springs to adjust the pressure
Reduce appearance of fasteners by adding colored screw caps, so the fasteners blend into the cart
Worked closely with plastic supplier adjust tolerance to make it more compatible with HUI's range
Moved the column fasteners underneath the cart which allowed a person to remove the column without having to remove the plastic sides and base
The Outcome
Thanks to the collaborative efforts of Razvan Mitulescu's sleek and innovative design and HUI Manufacturing's engineering and manufacturing capabilities, the resultant cart—named Navident—has a modern aesthetic and excellent functionality.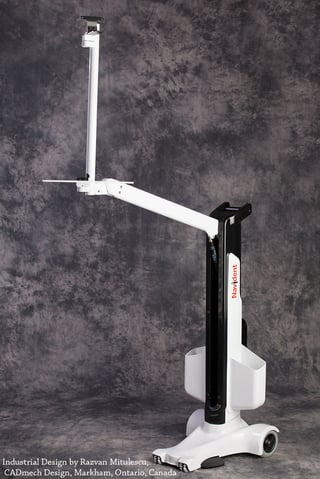 "I'm impressed with the quality that HUI Manufacturing was able to produce," said industrial designer, Razvan Mitulescu. "If you have a good manufacturer, you have the potential to have a very strong project."
This past fall, ClaroNav received FDA approval and had seen a growth in both the North American and European market. Consequently, ClaroNav's sales have been higher than initially forecasted and continue to grow. Since going into production, ClaroNav and HUI maintain a strong working relationship.
"HUI has been very responsive to production quality issues and our inclination towards constant improvement...Overall we're quite pleased with the choice we made to work with HUI Manufacturing," said Dekel.
Testimonial:
"The unique Navident cart has helped us greatly in rapidly commercializing the product and establishing our technology leadership. Firstly, its light weight and small footprint makes the product uniquely portable, which attracts customers and enables our sales people to fly with it and allow prospects to try it during live surgery in their own clinic.

Secondly, its long arm enables us to optimally position the laptop over the patient's chest while not taking any precious space near the patient's head. Thirdly, its attractive sporty appearance enhances the product's emotional appeal and boosts our image as leaders and innovators."
—Doron Dekel, co-founder and CEO of ClaroNav
At HUI Manufacturing, we specialize in custom solutions for our customers. Contact us today with your medical cart designs and questions today!