HUI began its lean journey more than 15 years ago. These initiatives have allowed us to produce custom-designed medical carts within the confines of time-sensitive lead times, earning HUI an AME Regional Award in 2006. These are some of the lean management improvements we have implemented over the years that we suggest testing out at your company.
Lean Teams
Cross Functional: HUI is made up of many cross-functional teams. The Medical Business Development team consists of marketing, sales, project management, and design and manufacturing engineers. This team handles the project from concept through production, so each member can bring up their concerns and participate when appropriate. Following this lean process cuts back on the time wasted backtracking when there are gaps in information because each role is focusing on how they need to contribute to the project.
Cross-Train: Team members also cross-train other disciplines to fill in as needed. Though it's a creative stretch for an accountant to assist a marketing lead, we always consider our available talent before acquiring additional resources and unnecessary project costs. When defining each person's lead role, think about their possible backup positions.
Open Offices: There are no walls or cubicles in any of HUI's office teams. Our offices are laid out as a U-shaped cell, just like one would find a lean manufacturing cell on the shop floor. This layout and open office atmosphere facilitates better, faster and more efficient project discussions.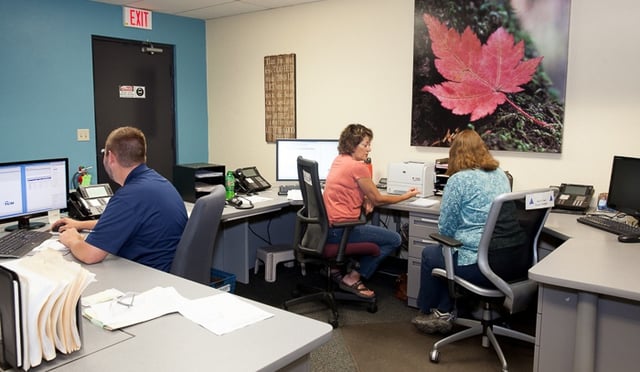 Visual Project Planning
On a macro level, the company made team performance and scheduling visual. All teams have metrics and schedules displayed in their work areas, with these simple lean rules:
Ten feet in three seconds: Each board should be large enough to see from about ten feet away, and visual indicators must allow someone who is unfamiliar with the measurement to know if things are going good or bad within about three seconds.

Color coding and simple icons to express project status:

This lean management strategy has worked well because the information is so visible that project issues get addressed earlier. A planning board can also provide visibility of what is coming next to downstream teams.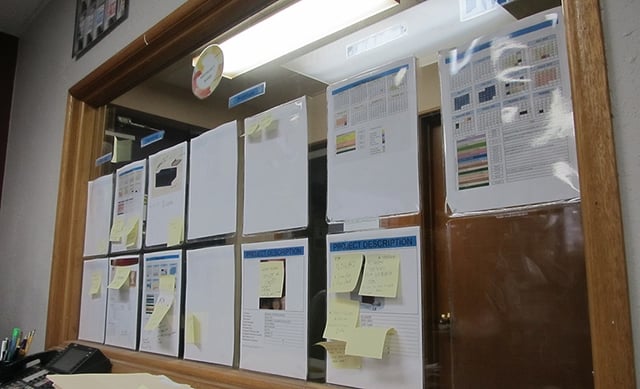 Lean Management Standardization
HUI strives for standardization on all levels. Every project is documented within a standard format, which makes it easy for anyone to pick up where the previous person left off. This template is essentially a project management checklist including a project process flow that lists every deliverable along the way. All deliverables must add value to the project, and all activities are deliverable-driven.
These are just a few lean management strategies that helped us cut back on wasted time and resources. Our goal is to reduce or eliminate waste in our processes to be more efficient and effective in delivering custom solutions to our customers. HUI's lean initiative has paid off, and we are certain that you'll see the same success when implementing lean processes that fit your company. If you'd like to learn more about our lean practices, or how you can start applying them yourself, please contact us today.