What do you need to consider when designing packaging for your medical device cart?
There are three main goals for packaging design for your medical cart:
Protection: safeguard your product from incurring mechanical or environmental damage in transit.
Ease-of-use: the design should be easy for our assemblers to pack and ship, simple for material handlers to manage at the other end, and it should ensure that the end-users have everything they need to uncrate and put together when it arrives.
Cost considerations: balance protection and ease-of-use with material costs of the packaging itself.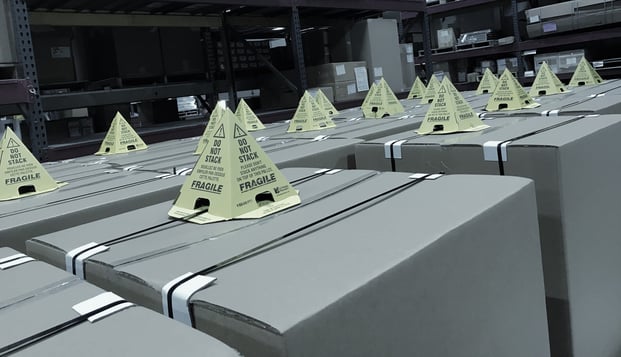 When does packaging design become a part of the medical cart design process?
We've learned many lessons about designing the ideal packaging for our customers' medical carts over the years. Although shipping the product is the last step in the medical cart manufacturing process, it's a key phase in ensuring that the device and cart arrive at the end-user ready to go. At HUI, we recommend that conversations about how the medical cart will be packaged and shipped start as early as possible to eliminate unpleasant surprises later on.

"Packaging should be thought of right up front. Unfortunately, many times it's forgotten about until the very end." - Greg
Conversations to have with your medical cart manufacturer:
Your device cart manufacturer should be asking you some key questions early in the design process that will affect how the packaging for your medical cart, cabinet, or enclosure will be designed.
One important factor is how the device and cart will be shipped and the expectations of the end-user. Will the device and/or cart ship fully assembled? In this case, each unit may need to ship on its own pallet and will need additional bracing material to hold it in place.
If the units will be shipped partially assembled or disassembled, you'll need to think about how those units will be unpacked and prepped for further assembly. The best practice is to begin with the end in mind: smart packaging can help error-proof the follow-on assembly process and prevent component pieces from getting lost. It's a good idea to kit the assembly pieces and fasteners together so that everything is ready to go to assemble each unit. This may require "boxes within boxes" that will then be loaded together. Keep in mind that there will be higher costs associated with the extra packaging material that may be cost-prohibitive, especially for small quantity runs.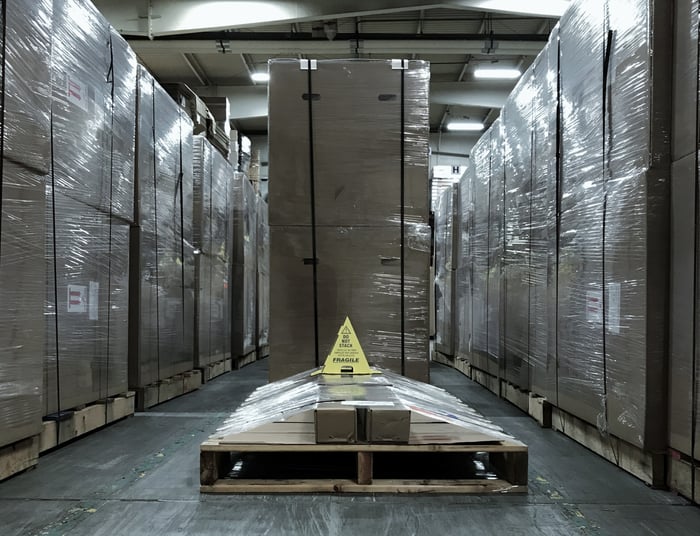 What types of materials are typically used for medical cart and device packaging?
Not surprisingly, some of the most common materials are cardboard, wood crates, and foam inserts.
Cardboard is cost-effective and generally makes up a good percentage of the packaging material we use to ship out our medical carts. However, cardboard alone does not offer the stability and protection required for many of the products we ship.
To add additional stability, especially for partially or fully assembled units, a wooden crate made of heat-treated wood may be used. There is an additional cost associated with this option, but it can pay for itself by reducing the likelihood of damage.
Often, we use a combination of cardboard and wood but add durable foam inserts to prevent the medical device from tipping or jostling while in transit. We often use foam blocks with engineered cutouts to provide maximum stability. It's important to note that although foam can provide excellent protection for our products, it is not the most environmentally friendly material. If you plan to export your medical device and cart to Europe, for example, you should research the material sustainability requirements.
"Reusable packaging is great. It spreads out that cost, and you can probably get away with using a more expensive pack… you get more bang for your buck." - Greg
Make sure to ask your medical cart manufacturer about options for re-usable packaging as well. With good design and materials, we can often create a packaging solution that can be used in transit from our facility to our medical device manufacturer customer and then re-used again from their facility to the end-user. Not only does this spread out your packaging costs, but it's also more sustainable as well.
What have we learned about packaging along the way?
One of the key considerations we've found is understanding the need for cushioning and shock absorption to protect the product and eliminate shipping damages that may occur.
In particular, the casters on the base of our medical carts are sensitive to damage. The weight of the cart and the motion of the shipping container can put too much stress on the casters, resulting in damage and delays. We will often build a platform into the shipping container that suspends the base and casters off the bottom. Casters on fully-assembled carts are also one key area that benefits from the extra protection of foam. We frequently apply foam inserts in the base of the container with cut-outs that cradle each caster for additional stabilization.
Some movement of the shipped container can't be avoided. To further prevent damage and stabilize the entire unit, we often build shock absorption into the actual skid.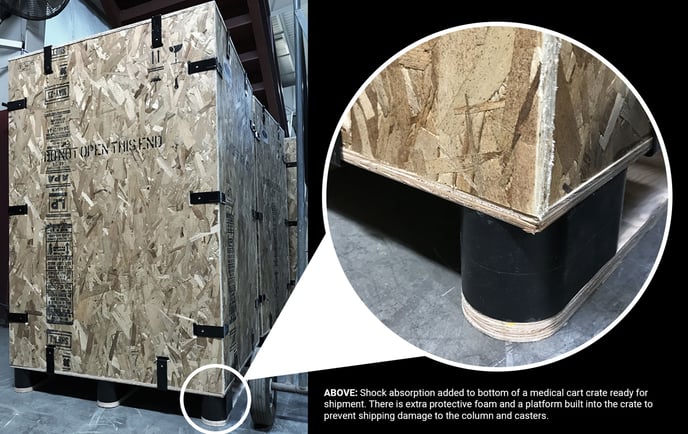 Medical Device Cart Packaging Design: Key Takeaways:
Don't wait until the end of the process to discuss packaging. Have a conversation with your cart manufacturer early on to determine your shipping options and needs. Good packaging doesn't just happen – it's designed. Communication at the outset will enable your manufacturer to work with you to protect your investment and keep you on time and on budget.
Good packaging can be expensive -- but it will reduce errors and assembly time, and keep you and your customers happy.
Be prepared to test the packaging and look for ways to improve it. As time goes on, new materials and products may be available, so it makes sense to re-visit your packaging design periodically.
"Don't wait until the end to think about packaging. Make sure it's part of the project from the beginning. Plan to develop it right away." - Greg
Looking for more?
This post is based on an in-depth discussion with our resident packaging and shipping expert, Greg Binversie. For a full interview with Greg about packaging design considerations, see "What's Up With Nick and Chuck" Episode #17
For additional information and resources about medical cart packaging, see our previous blog posts on packaging and shipping.