If you read our last two blog posts on medical cart materials for prototypes and medical cart materials for both low and high-volume production, then you're probably curious about what materials and processes are best for high-volume production. There are many cost-saving opportunities for high-volume production runs, so we've put together this guide with the pros and cons of each option.
Stamping
High-Volume Production
Pros:
Stamping is a cost-effective option and great for high volumes.
The shaping process is quick. It only takes one hit to form it.
Cons:
High tooling costs.
You have to trim the material hanging over the sides after you stamp.
---

Aluminum Extrusions
High-Volume Production
Pros:
Aluminum extrusions are great for medium to high production runs.
Good surface finish.
For the most part, there are no limits on the shape of the design.
Tooling is very cost-effective, even for larger parts.
It's a good substitute or replacement for sheet metal components.
Cons:
The parts may require secondary machining.
---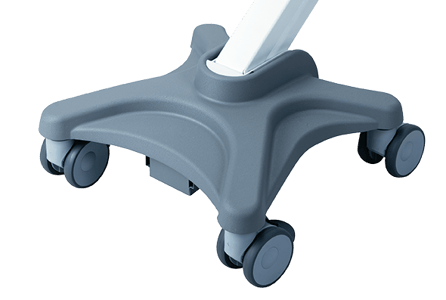 Castings
High-Volume Production
Die-Castings: Best finishing and you need to run very high volumes (millions of parts).
Permanent Mold Castings: Need to run high volumes.
Sand Castings: Need to run medium to high volumes.
Pros:
Castings are great for high volumes because the process is very repeatable.
Undercuts are not a problem with di-castings.
For the most part, there are no limits on the shape of the design.
Cons:
Tooling is expensive.
Undercuts are a problem with sand and permanent mold castings.
Castings often require a secondary process to add finishing, threads, and any machining processes, because they don't have in-mold inserts.
---
Factory Floor Animation 1: Injection Molding from Joel Dubin on Vimeo.
Injection Molding
High-Volume Production
Pros:
Injection molding is cost-effective for high production runs.
You can add color, texture, threaded inserts, and undercuts in the mold.
You can run large quantities with one tool.
Companies can use recycled materials to create the tool.
They can also make parts out of recycled materials, if the part's color does not matter.
Cons:
Tooling is expensive.
Long lead times on tooling

.

Any changes can be costly, because you will have to change the tool.
---
If you need help designing and managing your cart project, our custom medical cart design team at HUI Manufacturing can help you determine the ideal materials and processes for your cart. Contact us today to learn more about how we can help!
Also, if this information is helpful to you, please subscribe to get instant updates any time we have a new blog post!