A major consequence of the pandemic and subsequent supply chain crisis has been a trend toward OEMs "reshoring" production and suppliers of major component parts to domestic suppliers. One of our customers was feeling the effects of the logistics squeeze early in 2020. Some issues they were experiencing with their offshore cart supplier were pandemic-related, but others were existing issues that had become untenable.
This led to a search for a domestic manufacturer to manage the re-design, supply chain management, and production of an existing cart project. HUI Manufacturing, as a domestic supplier of medical carts for over 20 years, was ready for the job.
The medical cart reshoring project needs included:
Reducing tariffs, freight, and packaging costs by shifting to a domestic medical cart supplier
Reducing order sizes through a build-to-order model vs. their current large-quantity shipment requirements to reduce their inventory space and save touch time on their production floor
Finding a reliable supplier with outstanding quality that would be responsive and responsible
The Cart Project:
Surgical cart housing generator, smoke evac, and surgical cauterizing tool.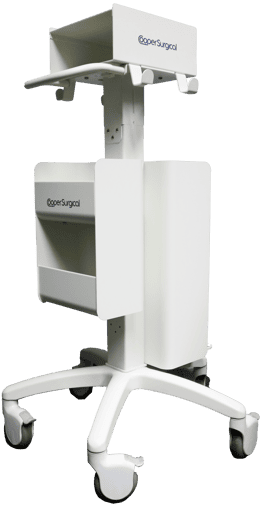 Key Results:
The HUI Manufacturing engineering team's expertise allowed us to step in and become an extension of Cooper Surgical's engineering team. When internal resources aren't available, HUI Manufacturing can become that missing piece to keep progress moving on your project.
Using a customized version of an existing HUI Standard cart platform accelerated development to meet a constrained 25 week timeline. HUI Manufacturing was very sensitive to the constrained timeline in this project and able to quickly turn around design changes.
No "hand-holding" required. Their team found that HUI's engineering and project management were proactive and efficient from design through production.
As demand for the device platform increased through the pandemic, HUI was happy to ramp up production. The customer felt grateful that they had switched production to HUI Manufacturing as the supply chain situation became even worse.
Here's what our customer had to say about the project:
"The relationship proved to be a win-win. HUI Manufacturing became an extension of our engineering team. They have the expertise to get handed a project and keep it going. We wish all suppliers were this easy to deal with.


In many ways you get what you pay for… sometimes you get a lower price with an overseas supplier, but it comes with a bag of headaches. With HUI Manufacturing, we didn't have to hand-hold. We got what we were promised: on-time production, quality, and a responsive team."

- Project Team Buyer
---
Are supply chain constraints making you think in earnest about reshoring your medical cart manufacturing? Contact HUI Manufacturing's Medical Business Division today for a free consultation to see how we can help.