As a contract manufacturer who specializes in the design, development, and manufacturing of custom medical carts, we've engineered hundreds of unique products for a large number of clients. But if you think our relationship with the customer ends upon the delivery of their custom carts, think again!
As our relationships with companies grow, we frequently touch base with our clients to ensure our carts are not only meeting their needs at the highest level, but also ensuring that the design, development, and manufacturing of future orders is cost effective. We're constantly thinking of new ways to optimize the design, material utilization, and manufacturing process to help our clients get the best product quality at the lowest prices.
At HUI, we'll work closely with you to reduce the costs on an existing project, and to help show you how, we're giving you an inside look at how some of our design changes resulted in a 15% total cost reduction for one of our clients:
The Goal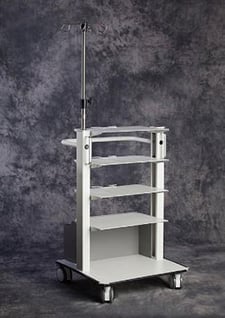 The cart pictured here is a custom cart we built for an Orthoscopic Surgery client back in 2008. After six years in the field, our client came back to us looking for a way to reduce the cost by at least 12%.
The Process
Upon learning of the cost reduction goal, our engineering team performed a cost reduction evaluation. They carefully considered all aspects of the project, including how the cart was used, how it was initially designed, which materials were used, and how it was manufactured. We sat down with the customer to assess what features and functions they'd like to eliminate from the initial design based on six years of use in the field.
Design/Manufacturing Changes
After meeting with the client and discussing potential cost reduction options, the following design/manufacturing changes were proposed:
Redesign push handles for reduced welding and assembly time
Redesign shelves for a reduction in welding and finishing
Adding more fasteners to reduce welding
Use pop rivets during assembly to lower assembly time
Eliminate expensive base design for reduction in welding and assembly time
Redesign storage bin to eliminate roll forming process
Material Utilization
In addition to the design/manufacturing changes above, the following material usage changes were also proposed:
Use a new IV Pole manufactured in North America to reduce shipping costs and lead-time
Use new, standard medical casters that are less expensive, but still maintain the same sleek profile
The Results
After implementing the aforementioned design, manufacturing, and material changes, we not only achieved the original 12% goal, but were also able to reduce costs by an additional 3%, resulting in a 15% total cost reduction for our client.

Whether you're looking to create a low-cost original design, or looking to reduce the costs of an existing product, we know exactly what to look for to help you achieve your cost reduction goals. Using the lean manufacturing methodology in combination with design for manufacturing principles, we're able to improve the processes and optimize the efficiency and effectiveness of all our products.

For more information about HUI, our medical cart design, or our development process, please contact Nick Rolf at nrolf@huimfg.com or reach directly at (920) 286-2217.