"There's a famous saying among engineers: A prototype is worth a thousand expert opinions" Mark Collins, HUI's applications engineer, shared. Ultimately, what he's saying is prototypes inspire engineers and customers to question, test, and adjust multiple characteristics of a cart design. "We always learn something from prototypes, and it always results in cart changes or improvements," Collins explained. That's why it's important to learn how you can use medical cart prototypes to test out your product's design.
Prototype Options
Functional Medical Cart Prototypes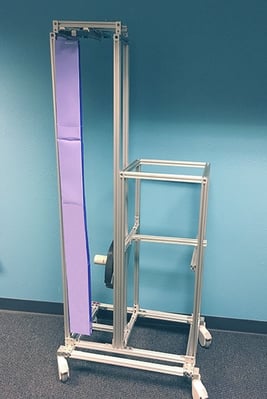 Functional medical cart prototypes test an ideal design and may be restricted to a skeleton or a portion of the medical cart. We create these prototypes as a cost-effective, quick way to show how the product will work in the field by putting less effort into the aesthetics.
Used for Testing:
Size
Weight
Maneuverability
Casters
Arms
Drawers
Doors
Trays
Production-Grade Medical Cart Prototypes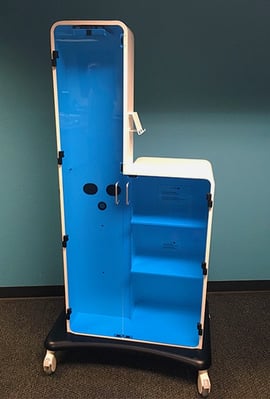 A production-grade prototype is a functional cart that's designed with a detailed focus on aesthetics. We build these to look very similar to the finished cart. These prototypes are great for identifying any trouble areas within the design. We also put this prototype through initial packaging and IEC 60601-1 tests. In terms of cost, it is more expensive to produce one of these prototypes.
Used for Testing:
Functionality
Mobility
Packaging
Aesthetics
HUI's Prototyping Process

At HUI, we give you a lot of freedom to create a medical cart that's custom built around your unique needs and wants. We do not limit your options, so prototyping is a very important step in our development process to help us determine if a design is going to work out.
Before we start creating functional prototypes, we create a full-scale print of the custom medical cart. It's an inexpensive, quick way for us to give you a good understanding of your cart's size. Once we hang the prints up, you can also see where all the different design aspects will be located. These prints help our customers and our engineering team determine design alterations before we build anything, which allows us to reduce costs and provides quicker, more accurate quotes.
After the prints are approved, we start building either functional or production-grade prototypes based on what you want. For each new prototype, we keep a duplicate of that version at our site to make it easier for you to communicate your thoughts and desired changes.
After you approve the final prototype, and the cart is ready for the production launch, HUI specializes in small production runs. Some companies will make you run 300 carts in one order, but we can offer small production runs because of our Make-To-Order (MTO) manufacturing process. This helps us ship products out faster and makes it easier to implement design changes between runs.
Medical Cart Prototyping Tips
Here are some tips to keep in mind during the custom medical cart prototyping stage:
Don't get emotionally attached to your initial designs. If you put too much time into the functional prototypes, it may affect your ability to judge the carts fairly. Remember to start by focusing on functionality.
Always keep the end-user in mind. Test the prototype based on your end-users' expected needs and behaviors.
Have a plan for what you're going to test. Create a list of what you plan on testing and what criteria the cart must pass.
Don't lose sight of other lessons you can learn from the prototype. Don't get too focused on your tests that you miss other issues you weren't expecting. Pay attention, don't let something slide without investigating the problem.
Keep this information in mind next time you need prototypes for your medical cart. It's important to know your options as well as tips for getting the most out of this important stage, so you can make critical changes before you get too far into the design. If you need help developing a prototype or concept for your medical cart project, contact us today!