Our team at HUI has been designing medical carts for over 15 years now, and we've seen a lot of changes over that time—specifically in our client's preferences. That's why we've put together this list of the most prominent design trends we've observed in hopes they'll help spark some ideas and solutions for your own medical cart project.
Design Trends
Exclusively Using 60601 Compliant Locking Casters
Customers want to be 60601 compliant from the beginning, so as a way of guaranteeing a better shot at passing the 60601 test, they're choosing to exclusively use locking casters on their carts. Even though some carts can pass with a few non-locking casters, clients take the extra precaution so they won't have to make design changes later on.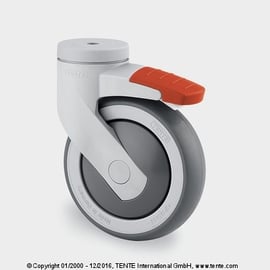 Starting with a Standard Medical Cart with Customizable Options
We receive many requests to take our standard cart base and add customizable options. Sometimes this option acts as a starting point to test a product's success in the field before developing a fully customized cart. Other times, this economical option meets all of the end user's needs as is.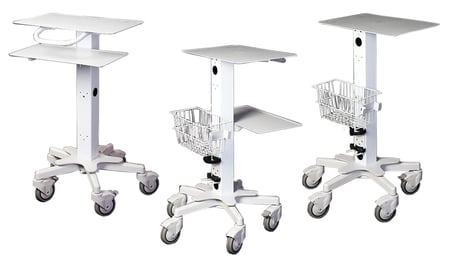 Trying to Minimize or Skip the Concept Stage
It seems like many customers want to get a physical prototype sooner and are minimizing or trying to skip the Concept Stage to get it. This could be a big mistake. This stage in development is very important to help narrow down what the cart needs to be capable of, how it should be built, and what it should look like once it's designed. If you want to get the best options available for your cart design, never skip this crucial stage.
Showcasing the Whole System
Clients are no longer selling a device that sits on a cart. Now they are selling a system with the device incorporated into the cart. The cart is no longer just a piece of furniture meant to go unnoticed. It is now the main event along with the device.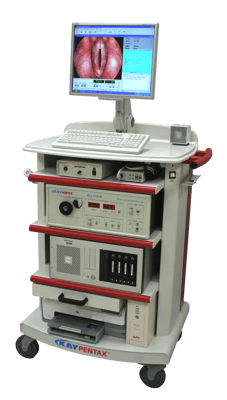 Diverse Colors
When HUI started designing medical carts, clients wanted their product to blend into the background, so their device would stand out and not the cart. They picked mostly neutral shades, predominantly gray. Now clients are asking for bolder colors like black and blue that are meant to draw attention to the whole system. They also use this as an opportunity to incorporate their own brand colors and logos, which is a great way to create brand recognition and establish their organization's credibility in the marketplace.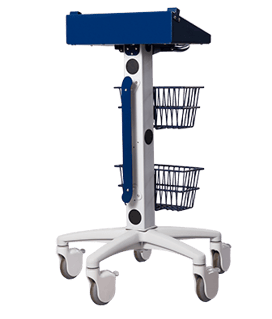 We hope these trends provide ideas for solving any issues you come across with your project. Even better, maybe you've already come up with an original solution that will start a new trend. We've seen a lot over the years, but innovation never fails to excite us.
If you have questions about any of the trends mentioned here, or if you need help with a customized cart solution, contact us today.