One of the most important things people want to know about custom medical cart designs is how long it's going to take to develop a brand new cart. It's often a big factor when people are choosing between starting out with a standard cart or going with a custom cart from the beginning. At HUI, you might be surprised at how fast a new cart design goes through our development process. That's why we put together this timeline visual, along with some detailed information about each step, to give you a better understanding of what to expect.

HUI's Custom Medical Cart Development Timeline
What's involved in each step?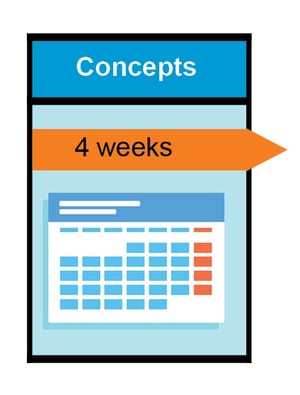 Concepts (4 weeks)
Discovery Meeting:

We start the concept stage with a Discovery Meeting, where the HUI team works with your team to fill out a "Features and Functions Worksheet" with all of your project requirements. During this meeting we discuss topics like the environment where the cart will be used, its desired look-and-feel, your preferred type of casters, and shipping methods.

Concept Generation:

Our Industrial Designer will then sketch out concepts, while our Project Manager works on estimates for tooling and production costs.

Concept Refinement:

We'll present three to five industrial design concepts so your team can choose their preferred design features. The concept refinement meeting gives you the flexibility to mix and match concepts, tooling options and any other information brought to the table.

Final Concept:

Once we have a definitive understanding of the cart you want, HUI's design team will put together a polished final concept for your approval to move into engineering.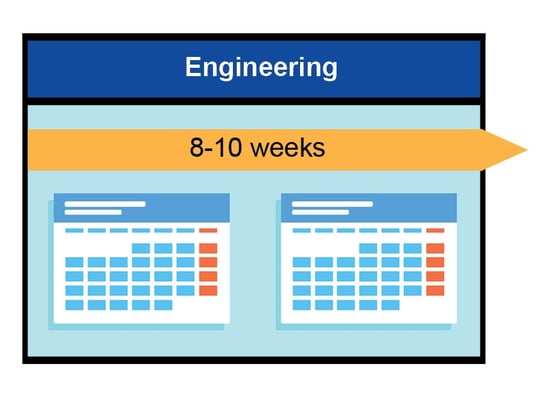 Engineering (8-10 weeks)
Design Engineering:

The engineering stage brings the custom medical cart to life. Our engineers convert the final concept into a manufacturable cart design.

Customer Meetings:

HUI has regular engineering review meetings with our customer throughout this stage to review the models and make sure everything reaches our customer's expectations.

Analysis and Testing:

Our engineers perform an analysis inside the 3D software. They can determine the angle at which the cart will tip over, the maximum amount of weight a shelf can hold before it starts to deform, etc.

DFMEA:

In order to determine the design risks of a project, we hold a Design Failure Effects Mode Analysis (DFMEA) meeting. We use these meetings to discuss any questions and distinguish what testing the cart will need once we have a production grade prototype.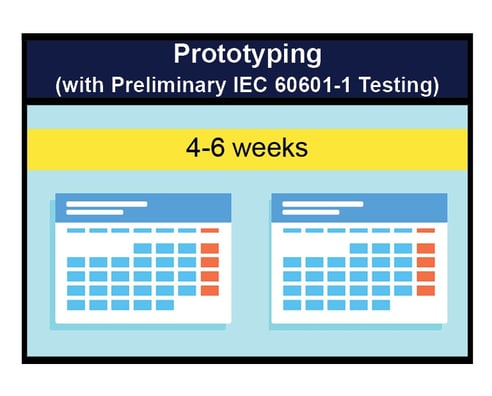 Prototyping (4-6 weeks)
Full-Scale Print (Optional):

The engineering stage brings the custom medical cart to life. Our engineers convert the final concept into a manufacturable cart design.

PFMEA:

Our engineers then create prints and assembly instructions for the manufacturing floor. When the prints are complete, we hold a Process Failure Effect Mode Analysis (PFMEA) meeting to determine any risks associated with the cart's manufacturing processes.

Functional Prototype (Optional):

If we see a need, our team will build a functional prototype to test the ideal design. This prototype is often restricted to a skeleton or just a portion of the medical cart. We create these prototypes to show how the product will work in the field while minimizing costs by putting less effort into the aesthetics. However, if we are adding simple changes to a standard cart, or creating a custom cart that is very similar to one we've made before, there may not be a need for a functional prototype.

Production-Grade Prototypes:

Lastly, we produce a production-grade prototype. This prototype tests the functionality of the cart, and we design it with a detailed focus on aesthetics. We build this cart to look very similar to the finished cart. These prototypes are great for identifying any trouble areas within the design. We also put this prototype through initial packaging and IEC 60601-1 tests.

IEC 60601-1 Testing (Optional):

We offer preliminary IEC 60601-1 testing and initial packaging testing for any customers who would prefer to utilize our team's resources instead of their own facilities. For our team, 60601 testing takes about two days.
Please Note:
Your custom cart development timeline is susceptible to change due to the lead-times of specific manufacturing processes and materials. Other factors that could also push out your timeline include the number of concept iterations, design changes, decision-making time, and added time from issuing P.Os.
To learn more about these factors, and how to solve them, check out our infographic on Factors that Impact Your Custom Medical Cart Development Timeline.
At HUI, we take pride in how fast we can provide innovative medical cart solutions to our customers. With our LEAN culture, we're always striving for more efficiency and less waste within our processes. The design team also deserves a majority of the credit. With their combined experience and daily collaboration, they make these solutions seem easy, even when they're not. This structure has allowed us to keep our average custom cart development timeline to only a few months. If you'd like to get an estimated timeline on your own project, contact us today to learn more about how we can help!
Also, if this information is helpful to you, please subscribe to get instant updates any time we have a new blog post!