Your medical cart's casters are an important consideration when developing your custom design. There are so many options to choose from it can be hard to narrow it down. We understand, so to help you out, we thought we'd introduce you to our top three caster suppliers for medical carts.
HUI's Top 3 Caster Suppliers for Custom Medical Carts
Keep in mind that this list is in no particular order. Each company's casters serve as a great option, depending on your application and your preferences. They are all unique, but it's going to come down to the details when deciding which caster supplier you'll want to choose for your medical cart.
Colson Group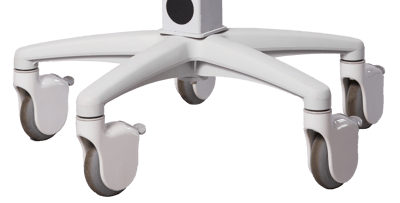 Colson Group offers a wide selection of caster options under their corporate umbrella. We've been utilizing the Medcaster brand as well as the Sheperd Casters. Their casters have their own unique style and are a great option for your medical carts.
Learn more about Colson Group:

Colson Group website: http://colsongroupusa.com/
STEINCO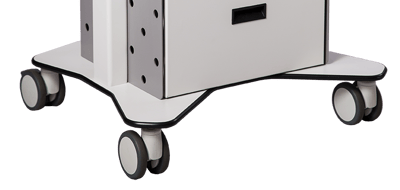 We've found that STEINCO's casters are typically a favorite amongst industrial designers. Designers like the polished appearance, and are happy to plan around STEINCO's regular lead times and costs to pick those casters for their medical carts.
Learn more about STEINCO:
STEINCO website: https://www.steinco.de/en/products/castors-and-wheels/
TENTE Casters, Inc.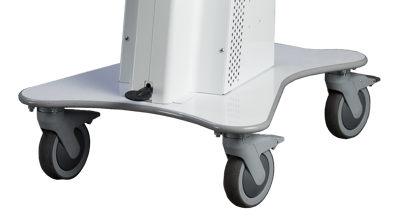 TENTE casters have a very recognizable appearance, so some customers prefer these style options for their custom carts. They compete with both companies with similar costs, quality, and lead times.
Learn more about
TENTE Casters, Inc.

:

TENTE Casters, Inc. website: https://products.tente.com/us-en/products?p=1
Other Consideration for Choosing Casters
Overall, there are a few things to look out for when choosing a caster. Each company has multiple options, so pay close attention to the following:
Caster Options
Do you want a dual wheel or single wheel casters?
Do you want the caster to attach to the cart through a threaded stem, grip ring, or a top plate with bolts? (If the customers will have to assemble casters on the cart after it ships, consider which option will be easiest for assembly.)
Do you want to add cable pushers? (Cable pushers can be added to casters to move cables out of the way, so the cart doesn't run them over.)
Pay attention to the different brake options, appearance, and ease of use. (Make sure end users will be able to easily apply and access the brakes.)
Caster Colors
Each supplier has standard color options for their casters like gray, white, or black. These suppliers have other color scheme options too, depending on the company. If you are planning to produce lower cart volumes, you'll want to pick a caster company that already offers the colors you are looking for.
If you have large volumes, each company offers the opportunity to customize your caster's color, thread, cable pushers, etc. You'll just have to purchase large orders and expect a longer lead time (about 10-12 weeks).
How can HUI Help with Your Casters and Custom Cart?
If you choose to work with HUI to develop your Medical Cart, we have casters samples on hand that we can show you during the discovery meeting. It gives you the opportunity to understand size, look, feel, and functionality of the different caster options. Our project manager can also help you determine the most cost effective option for your solution by providing you with some ballpark pricing.
At HUI, we're always looking into ways to offer cost reductions depending on your preferences. Over the years, we've learned where to look without compromising the quality, and the cart's casters have always been a good place to start.
If you'd like to learn more about casters, or need help with your custom medical cart project, please contact us today!