It's no secret: custom medical carts are a big investment. However, you're paying for what you put into them. When you want something unique that doesn't currently exist, you can expect to pay a little extra to build the cart of your dreams. You should never have to compromise on your ideal medical cart design, but we understand that you are still aiming for a specific budget. To help you reach that goal budget, we've put together a list of factors that will have a significant impact on the cost of your custom medical cart.
Balance Aesthetics
Keep in mind that high-end aesthetics will drive up the cost of a custom medical cart. If you're worried about staying within a certain price range, here are a few common aesthetic features that affect your custom medical cart budget:
Custom Paint Colors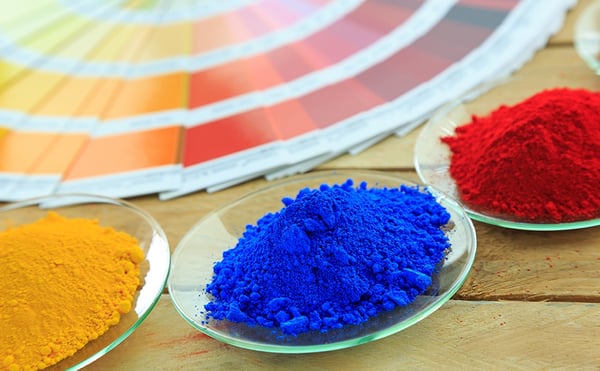 We know medical cart branding is extremely important for creating loyal customers. Within branding, one of the clearest ways to create immediate recognition is through your brand colors. The good news, you have options. The bad news, some of those options are going to cost extra per cart.
For example, your paint supplier's standard colors are going to cost around $5/pound, while a custom color often costs around $20/pound. In addition, all paint suppliers previously only offered custom textured powder with a minimum buy of around 1,000 lbs. However, recently AkzoNobel came out with a quick ship program where they create custom textured paint colors based off any color chip or RLA number for $20/pound at a much lower minimum buy of only 25 pounds. They also get it to you within 10 days, so it's a great program for companies who need custom colors for low cart volumes. If you're selling medical carts at large volumes (about 2,000 carts in a year), there are some extra discounts for buying in bulk as well.
Casters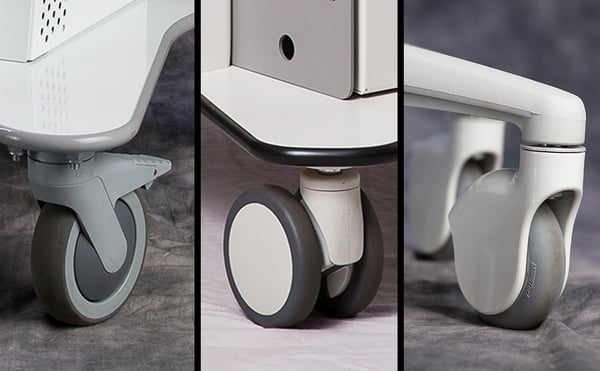 Casters have a large price range. More often than not, you will find beautiful casters on the higher end of that spectrum, so you have to decide whether that investment will positively impact your project. If you do have a strict budget, we suggest you don't go all out, because there are plenty of appealing, cost- effective caster options for medical carts.
Castings and Injection Moldings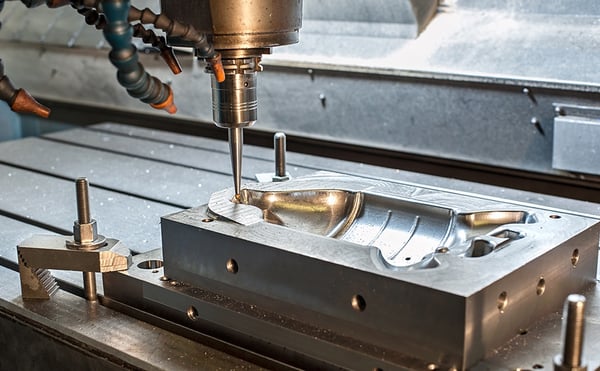 Your anticipated volume will affect how you invest in castings and injection moldings for your medical cart. If you're looking at high volumes, then castings or injection moldings may be a worthwhile venture. However, low cart volumes may not make up the difference between the production and selling price.
Materials

Plastic, stainless steel, cast aluminum and outsourced parts will raise costs. Sheet metal, on the other hand, is a more cost effective option. With the right design engineers, they can easily manufacture it for aesthetic purposes throughout your cart.
Finishing

Extreme finishing requirements on high gloss will increase the cost of your medical cart. Discussing other options to reduce finishing costs with your manufacturer will help you decide what's right for your project.
Packaging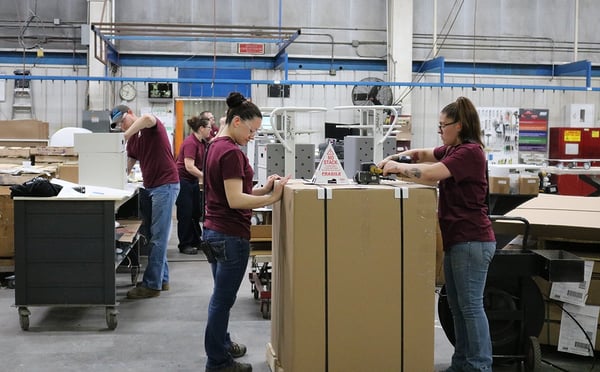 Packaging may seem like a small factor, but it adds up quickly. Crates are more expensive than cardboard, and your shipping choices will affect your overall cart cost. You'll want to discuss some different options with your manufacturer, because you can often cut down on excess, unnecessary packaging as well.
Designing for a Budget
It's inevitable that extra features on a medical cart designs will drive up costs. If you are designing to a strict budget, we do have a few suggestions to help you out. As HUI's Product Development Manager, Mark Collins, explains, "It's easier to add features at the end than to take them away." If you have a goal to hit a budget, consider starting with a highly functional design for your prototype and create a list of "nice-to-have" features. That way you can determine if additional items are necessary before anyone expects to see certain features.
If your focus is on the cart's design, than we suggest adding all the features you want in the beginning and we can help you make concessions in the end, if necessary. At HUI, our team excels in both aspects:
Designing custom medical carts to fit your budget
Designing carts with attractive features, new concepts, and innovative ideas
These two aspects lie on different ends of a spectrum. However, if you work with our team, we'll help you determine a comfortable place to land based on your needs.
If you are interested in learning more about any of these cart features, please comment below. If you need HUI's help designing and manufacturing custom medical carts, please contact us today!