Picking a custom medical cart manufacturer is an important decision. You want to get it right the first time so you can avoid spending money and time on costly redesigns and rework. The best advice we can give you is to make sure you're asking the right questions before you decide to partner with anyone. However, if this is your first time choosing a manufacturer, you might not know what to ask. That's why we put together this list of questions to help you out.
What to Ask Your Custom Medical Cart Manufacturer
1. Do you have internal design capabilities, or do you broker the design services of an outside source?
It's helpful to have design engineering and concepts developed by a team who understands how to design for manufacturing. If you use a design firm, they don't always consider those details. You might end up with an absolutely beautiful cart that isn't practical to manufacture.
2. Do you take IEC 60601 standards into consideration during your design process?
This is extremely important. Your cart will have to go through IEC 60601-1 testing, and you need confidence that it will pass. Make sure the cart design team makes that a major focus throughout their design process.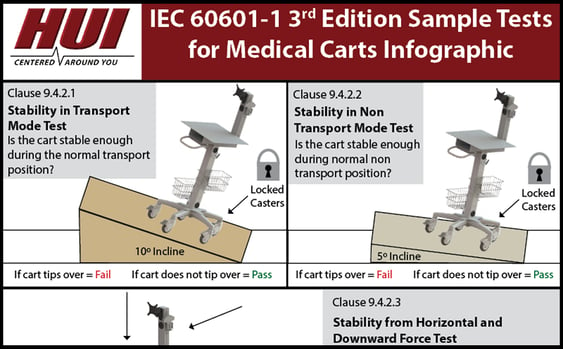 3. How much experience do you have designing medical carts?
HUI has been designing medical carts for 17 years now. Over this time the team has gotten a chance to work on a variety of different medical carts. With custom products, you gain the most knowledge from working on new projects.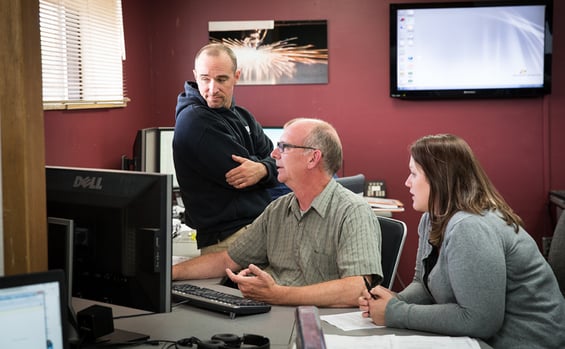 4. Can we use off-the-shelf components?
If you want to use standard features, make sure the manufacturer has this option available.
5. How much is this going to cost?
Custom carts typically cost more than standard options, so it helps to get an idea of how they handle pricing.
6. Can we incorporate multiple materials into the cart? Do you have an established supply chain for them?
If you want to use a variety of materials, try to get an understanding of their experience incorporating those materials into their designs. Established supply chains for your materials are a good sign the manufacturer can use your choices to create a design that looks great and functions efficiently.
7. Do you design and test custom packaging?
Packaging is a big part of the custom process. They're ability to design custom packaging will help ensure your medical cart ships without any damages.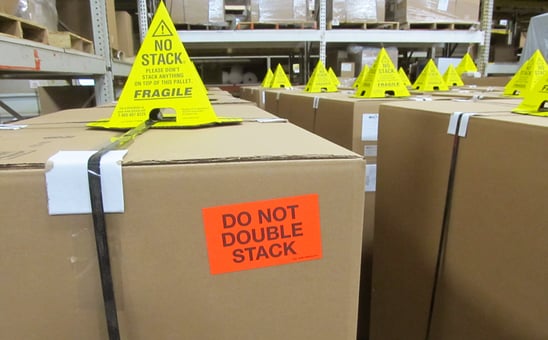 8. What is your typical lead time once in production?
Make sure their lead times fit with your expectations.
9. Are you ISO certified? Do you have a quality system in place?
As with any manufacturer, making sure they have a quality system will ensure they're following processes to deliver you high quality products.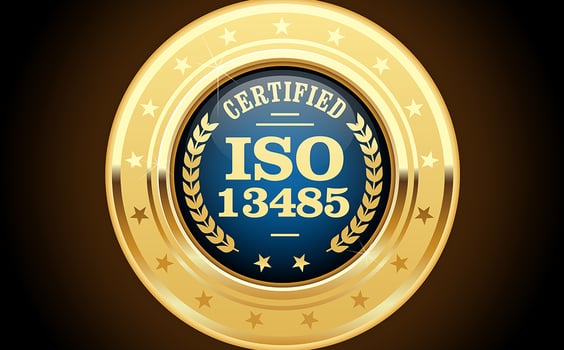 10. How much capacity do you have? How are you going to handle our volume of carts?
These questions will let you know if they can handle your project and give you some proof that they've been successful with your expected volume before.
11. Where do you manufacture your carts? Do you use oversees suppliers?
Find out where their manufacturing facility is located, if they have one. HUI manufactures carts in-house. We also utilize some local outside suppliers for any products or materials we can't produce in-house.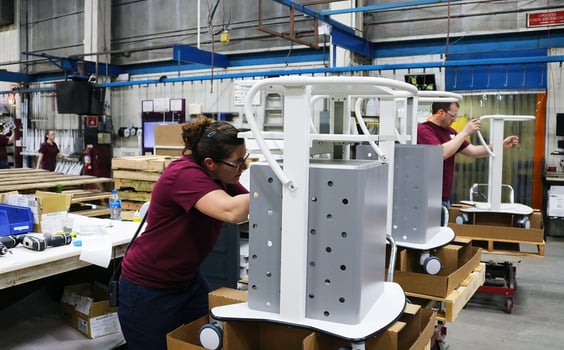 12. Who owns the IP? Who owns the tooling?
If you'd like to keep the design rights, find out who will own the IP and tooling.
13. Can we customize your standard line?
See if their standard line is limited to one choice, or if they offer options for customizing their standard medical cart line.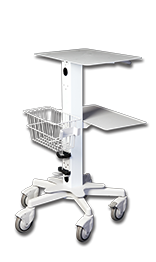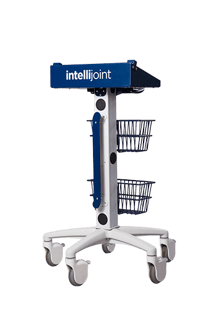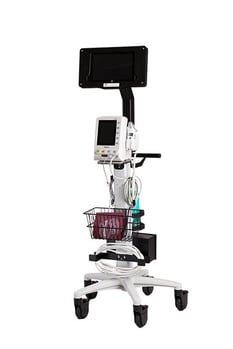 14. Do you offer any testing services?
If you don't have your own testing contacts, discover if the manufacturer offers testing services like IEC 60601 or packaging testing.
15. How long does it take to develop a custom medical cart?
Find out how much time it takes on average for the manufacturer to create a custom cart from scratch. You can also ask if it's quicker to customize one of their standard lines. At HUI, generally it takes 16-20 weeks to develop a custom medical cart from concept to prototype.

16. What steps will you take to meet our target price?
Discover if they're able to design to a target price.
17. Can you give me more details about the concept process?
Learn more about what you can expect throughout this stage of the process. Make sure it works for your needs.
18. How often will you review project milestones with us?
Find out how often they expect to provide review meetings.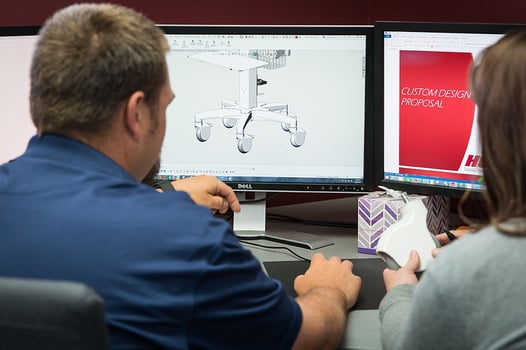 19. Can we make changes to the concept during the engineering stage?
Discover how strictly they stick to the original concept. What's acceptable in terms of changes further down the line? Will there be additional costs?
20. Is there a project manager running each account?
It's helpful to know how many resources will be assigned to your project. One of the most important roles is the project manager who will keep your project on schedule.
21. What kind of prototypes do you make?
Do they offer both functional and production-grade medical cart prototypes?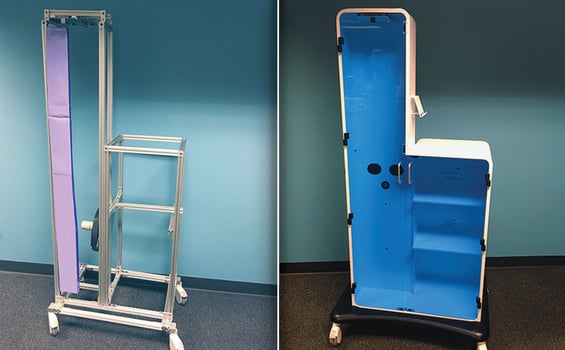 22. Do you ship internationally?
If you need to ship internationally, find out if the manufacturer would make that accommodation. You may also want to find out if they've ever shipped internationally before.
23. Do you have any experience with cart arms?
If you're interested in adding a specific feature like a cart arm, it helps to ask ahead of time to see if they have any experience with that feature.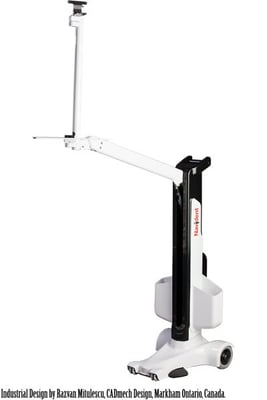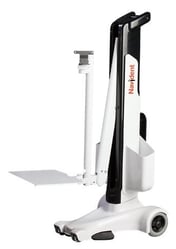 24. How do you handle our scope creep?
We understand that changes often come up during the development stage of the project. Sometimes those requested changes are significant enough to change the scope of the project. Discover how the manufacturer plans to handle these potential cost and timeline changes to make sure their solutions align with your needs.
25. What happens when the cart goes over budget?
If the cart goes over budget, find out ahead of time what the team plans to do to help solve those unexpected costs.
26. What makes you unique compared to other medical cart manufacturers?
Last but not least, this is a good question to ask your manufacturer to get a good understanding of the value they can provide over their competitors. Some things that make HUI's Medical Business Development team unique are the amount of years are team has dedicated to solely designing medical carts, our design speed, our focus on designing carts that pass IEC 60601-1 standards, and our or ability to design carts for efficient manufacturing.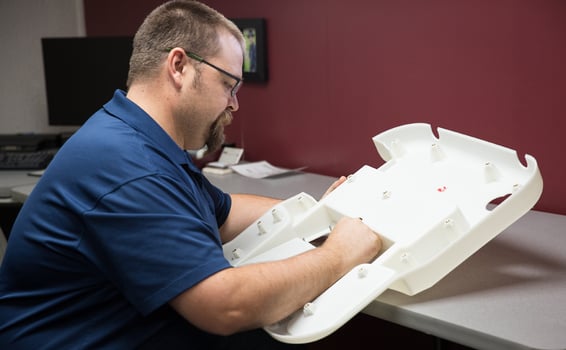 I hope this blog gave you some ideas of important questions you can ask your custom medical cart manufacturer. It's best to ask these questions ahead of time, so you're not blindsided further down the line when you have a cart design that you're not happy with.
At HUI, we provide you with the truth about what you can expect, and we've created a well-oiled development process over the years. We know what clients tend to want, and we provide them with carts they can put their confidence in. If you'd like to ask us any of the questions above, or discuss your own cart project, please contact us today!
For more articles like this, please subscribe to the Cart Smart Blog to get an email update the next time we publish a new blog post.